Wexcon is a technology focused solutions company. It is our goal to listen to the ideas of our clients and from those ideas bring them a solution using the newest in technology. Our use of technology is what makes our client's ideas not only work but excel. Our team focuses on the following areas:
Static to Digital conversion solutions
LCD based advertising installations
Digital information screens
Remote & networked information screens
Design solutions for digital products
Onsite installation of technology solutions
Web design with e-commerce engines
Consultation in most areas of technology
Our specialized hospitality division focuses on projects for hotels & casinos. This team has experience in working with hotel/casinos allowing them to better adapt to any needs your facility may have. We also are specialized in sourcing products for premium events and casino giveaways.
Contact our team today and lets begin finding solutions for your company.
See our products showcased at Dover Downs Hotel & Casino. Special NASCAR dates throughout 2013.


Innovative Digital AD Screen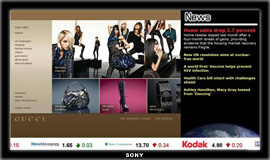 Animated Digital Menu Boards